Andre artikler

"En Trance" i Yoko Onos univers
Oplev Yoko Ono med "Half –a- wind Show – A Retrospective 7. juni – 29. september 2013 på Louisiana Museum of Modern Art.
03-03-2010
Læs mere...

Fra mur til lærred
"Graffiti er ikke graffiti førend det er på muren." Mød den enestående Mads Hofmann Andersen, der ikke er grafittimaler
03-03-2010
Læs mere...

Leger med farverne
Farver, striber, former og stemninger. Ansigter. Susanne har haft sin profil på MyArtSpace i ca. 4 år. Aktiviteten er blevet større i forbindelse med at troen på hende selv som kunster er vokset.
03-03-2010
Læs mere...

"Woman in Red"
Spændende udstilling af Steffen Kindts værker i Galleri Brænderigården i Horsens
03-03-2010
Læs mere...

Kunsthåndværket segmented trædrejning
Kunstnerportræt
Kunstner Henning V. Nielsen giver trædrejning en plads i kunstens verden. Det begyndte som en hobby og blev til en passion, der løfter trædrejning til et nyt niveau.
03-03-2010
Læs mere...

KunstTalent gav luft under vingerne - og elefanter i atelieret
Kasper Købke har fået ordrebogen fyldt og er lige nu en af de udvalgte kunstnere i Elephant parade. Sådan var det ikke før KunstTalent 2010.
03-03-2010
Læs mere...

Rundt om modernismen
Grunden til at 1900-tallets modernisme er så inspirerende for mig, er at så mange mennesker valgte at skille sig ud og tænke nyt på én gang! Man var ikke bange for at trodse tidens normer, og der skal hermed lyde en opfordring til at gå nye veje!
03-03-2010
Læs mere...

Skulpturen Earth – spor af jord
Det handler om sammenhold og fællesskab. Kunstner Karin Waldhausen er i gang med et spektakulært jordindsamlingsprojekt. Et langsommeligt magisk ritual kalder hun det selv.
03-03-2010
Læs mere...

Lad ikke larmen overdøve din egen stemme
For Dorte Tradsfeldt Trønninge er kunsten en kilde til ro og livsglæde. Hun maler ekspressivt og med en markant palet af stærke farver. Kom tættere på endnu end spændende kunstner lige her...
03-03-2010
Læs mere...

Kunstnerportræt Helle Rolsted
Jeg vil! Jeg kan! Jeg gør det sgu'!
Sådan lyder ordene fra kunstner Helle Rolsted, som valgte at sætte sin egen udstilling op i et forsamlingshus
03-03-2010
Læs mere...

Vejen til et kunstnerliv med succes
Kunstnere har ofte måtte acceptere et liv med økonomiske udfordringer da vejen til succes kan være besværlig. Anne Juul er én af de kunstnere, der gennem hård træning og adskillige sidespring, har fundet vejen til succes.
03-03-2010
Læs mere...

Gå på opdagelse på Ordrupgård kunstmuseum
Tre af de største kunstnere ses lige nu i en sammenlignende udstilling på Ordrupgård Kunstmuseum. Kom og oplev Van Goghs, Paul Gauguins og Émile Bernards værker.
03-03-2010
Læs mere...

Edvard Munch, Per Kirkeby m.fl. på ARoS
"Jeg forsøger at male livets uløselige gåder, og hvordan det tumler med os mennesker. Jeg forsøger at male selve livet, som det leves, kærlighed, had, smerte og angsten først og sidst. Jeg forsøger at give udtryk for min følelse af ensomhed og af ang
03-03-2010
Læs mere...

Jordlinger i Horsens!
Galleri Kælderen præsenterer udstillingen "4 glade kunstnere". Jeg har besøgt Galleri Kælderen i Horsens, som i marts måned præsenterer udstillingen "4 glade kunstnere".
03-03-2010
Læs mere...

Skønhedens historie 11: Oplysningstiden ca. 1730 – 1800
Med oplysningstiden begynder det moderne Europa, idet de fleste af de tanker og begreber vi igennem hvilke, vi forstår os selv i dag, fødes på dette tidspunkt. Det er her det moderne kritiske menneske fødes.
03-03-2010
Læs mere...

Stemningsbilleder fra Miniudstillingen
Kunstnere, publikum, Artbattle og mere kunst
03-03-2010
Læs mere...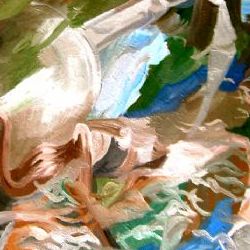 Fokus på Henrik Saar
Egentlig skulle han have været elitesvømmer, men livet formede sig anderledes efter han i en alder af blot 15 fik en hjerneblødning. Pludselig tog livet en helt anden drejning. Mød Henrik Saar.
03-03-2010
Læs mere...

"Du Danske Sommer" – Udstilling på Comwell
78 kunstnere er samles om at sammensætte en flot udstilling med temaet "Du Danske Sommer" på Comwell, Middelfart. Mød nogle af dem her...
03-03-2010
Læs mere...

Udstillerne i Herning Centret
Kom nærmere de 18 kunstnere der udstiller i Herning Centret den 31. marts og 1. april
03-03-2010
Læs mere...

Den Rastløse Rebel
Asger Jorn på SMK
Hvis ikke man fik set Asger Jorn på Louisiana, kan man nå det endnu på Statens Museum For Kunst
03-03-2010
Læs mere...