Andre artikler

Spændende udstilling i Aarhus lige nu
Kunstnernes Påskeudstilling 2012 åbnede i Århus Kunstbygning den 1. april med et spændende og bredt udvalg af malerier, fotografier, videoer og installationer til enhver stil. Oplev også Spring12 og Solo12, hvor tidligere kunstnere fra KP12 udstille
28-02-2010
Læs mere...

CAM-tric univers
Jeg er nervøs!
Jeg må ærlig talt indrømme, at jeg var ret nervøs for at lave dette interview med Camilla, for jeg har set, hvordan hun har ordene i sin magt og talentet for ikke blot sin unikke kunst, men også talentet til at få den ud ti
28-02-2010
Læs mere...

"Måske kan jeg alligevel male?"
Birgit har kun malet med akrylmaling i ca. 2 år. Hun arbejder ihærdigt på at dygtiggøre sig, og man kan se, at det virker. Hun er dygtig! Portræt af kunstner Birgit Traberg.
28-02-2010
Læs mere...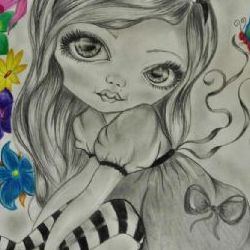 Fokus på Happycolours
Happycolours deltager i årets kunsttalent, kom tættere på hende her.
28-02-2010
Læs mere...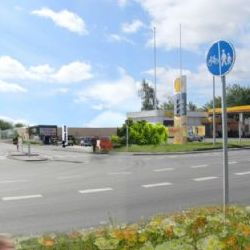 Fokus på Gro
Den største udfordring er i det daglige at kunne formidle kunsten på mit galleri
28-02-2010
Læs mere...

Skønhedens historie 12: Kunst som erkendelse og den gode smag
Kunsten fra ca. 1800 og fremad gennemgår en fantastisk udvikling i mange retninger på samme tid. Karin forstår dog at samle trådene, så kom bare nærmere...
28-02-2010
Læs mere...

Kunstens historie 9 - Barokken ca. 1650 - 1700
Barok-kunsten er egentlig en variation af høj-renaissancen og barokken i sig selv er mange forskellige retninger. Bliv klædt på til den næste fine middag med Karin Waldhausens lynguide...
28-02-2010
Læs mere...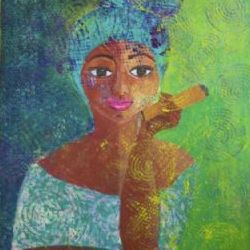 Fokus på liselottef
Det startede med jeg designede teater kostumer.
28-02-2010
Læs mere...

Close up på 4 finalister i KunstTalent
Kom tættere på en række af finalisterne i KunstTalent disse fire mini-interviews
28-02-2010
Læs mere...

Pollock & Jorn på Louisiana
Vores udsendte glædede sig meget til at se Pollocks malerier, men havde set så meget Jorn at forventningerne her var noget lavere. Det var der dog ingen grund til.
28-02-2010
Læs mere...

Udstilling: HIP TO BE SQUARE
Lunchmoney Gallery i Århus danner rammen om en soloudstilling med den unge og talentfulde kunstner Line Busch.
28-02-2010
Læs mere...

Bliv dygtigere som kunstner
Opbyg dit eget personlige kunst-studie. Sådan skaber du det! Drømmer du om, at du engang havde valgt dit drømmestudie indenfor kunst? Eller at du lige nu var kunststuderende og ad den vej opnåede de tekniske færdigheder, som du savner?
28-02-2010
Læs mere...

Paul og damerne
Heidi Rosenfeldt fik sin sag for at hun interviewede Paul Enøe Johansson - en mand der bobler over af godt humør og fortællelyst.
28-02-2010
Læs mere...

Udstillerne i Herning Centret
Kom nærmere de 18 kunstnere der udstiller i Herning Centret den 31. marts og 1. april
28-02-2010
Læs mere...

Talentet blomstrer
Skønt hele opløbsfeltet var meget kvalificeret kaster vi pressens lys på de 3 vindere i årets udgave af KunstTalent: Anja Altenburg alias A.ben, June Jin og Marie Keis Uhre
28-02-2010
Læs mere...

Nedbryd tabuerne og tal for helvede!
"Lad os få problemerne frem i lyset. Lad os få talt om det!" Henrik Nielsen er han en fantastisk kunstner, der kæmper de svages kamp og bryder tabuer. Vi stiller skarpt på endnu en MAS-kunstner.
28-02-2010
Læs mere...

Portræt af kunstner Jytte Brønnum Kristensen
Jeg sidder i mit kunstneriske virke, da der kommer en kvinde ind for at se på kunst. Jeg imødekommer hende, og viser hende mod udstillingen "Spirende Forår". Selv om der endnu ikke helt er forår udenfor, synes jeg alligevel, at hun har noget med sig
28-02-2010
Læs mere...

Farverivning – at blande sine farver selv.
Jo færre forskellige pigmenter og jo færre fyldstoffer, jo klarere er farven og vil man som jeg helst have sine farver klarere og mere sprudlende end lige fra tuben, ja så må man rive selv. Bruno Macdonald fortæller her hvordan du kommer igang.
28-02-2010
Læs mere...

Amedeo Modigliani og Jeanne Hébuterne
En fortælling om to kunstners skæbnesvangre kærlighed, liv og virke
28-02-2010
Læs mere...

Selvportrætter på Louisiana
Hvorfor har kunstnere igennem tiden valgt at portrættere sig selv? I dag afspejler selvportrættet af aspekter af identitet og løbende selvskabelse. Hvorfor?
28-02-2010
Læs mere...