Andre artikler

KG-Mangfoldighed
- markerer sig atter med en kunstnerisk oplevelse. Kunstnergruppen Mangfoldighed sætter endnu engang spot på kunst for alle i naturen.
17-03-2010
Læs mere...

Skønhedens historie 12: Kunst som erkendelse og den gode smag
Kunsten fra ca. 1800 og fremad gennemgår en fantastisk udvikling i mange retninger på samme tid. Karin forstår dog at samle trådene, så kom bare nærmere...
17-03-2010
Læs mere...

Mød Årets Værk vinderne på Art Nordic
Talentkonkurrencen Årets Værk på kunstsitet MyArtSpace.dk, blev igen i år vel mødt af mange dygtige kunstnere, som hver havde mulighed for at præsentere op til 10 af deres værker for det benhårde dommerpanel. Nu skal de snart udstille på Art Nordic
17-03-2010
Læs mere...

Lad kreativiteten blomstre
- med ny energi og inspiration
En artikel om inspiration, forskellige kunstneriske udtryksformer - og harmonikamusik.
17-03-2010
Læs mere...

CAM-tric univers
Jeg er nervøs!
Jeg må ærlig talt indrømme, at jeg var ret nervøs for at lave dette interview med Camilla, for jeg har set, hvordan hun har ordene i sin magt og talentet for ikke blot sin unikke kunst, men også talentet til at få den ud ti
17-03-2010
Læs mere...

Kunstnerportræt Lone Schebye
Lone Schebye maler sin have – fra sin have. Hun nyder at tage sit lærred med ud i det fri, hvor farver og strøg tager form som bl.a. gladiolus og georginer. Og så skriver hun blog om det.
17-03-2010
Læs mere...

Pollock & Jorn på Louisiana
Vores udsendte glædede sig meget til at se Pollocks malerier, men havde set så meget Jorn at forventningerne her var noget lavere. Det var der dog ingen grund til.
17-03-2010
Læs mere...

Store forbedringer af MyArtSpace.dk
Alle bolde har været i luften forud for den største omstrukturering af MyArtSpace.dk nogensinde. Læs her hvad der kommer til at ske.
17-03-2010
Læs mere...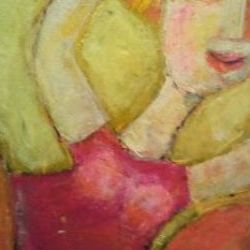 Fokus på Siffe
- Det er vel medfødt, en måde at se og møde verden på. Udviklet i barndommen ved megen alenehed med en storesøster og en mor præget af svær skilsmisse ved min fødsel.
En hård start på et hårdt liv blev også starten for en interessant kunstner
17-03-2010
Læs mere...

Skønhedens historie 8: Manierisme og reformation
Renæssancen er slut og kunsten var nået til at udtrykke en naturens og menneskekroppens fuldkommenhed, der aldrig tidligere var set - så hvordan kommer man videre derfra?
17-03-2010
Læs mere...

"Hemmelig " regel giver mindre kunstsalg
En skam for både virksomheden og dig som kunstner
17-03-2010
Læs mere...

Nye indtjeningsmuligheder for kunstnerne
Krisen kradser i Danmark og salget af kunst faldende. Kunstnerne bliver presset på prisen - men måske er der måder at klare sig igennem krisen?
17-03-2010
Læs mere...

Farverivning – at blande sine farver selv.
Jo færre forskellige pigmenter og jo færre fyldstoffer, jo klarere er farven og vil man som jeg helst have sine farver klarere og mere sprudlende end lige fra tuben, ja så må man rive selv. Bruno Macdonald fortæller her hvordan du kommer igang.
17-03-2010
Læs mere...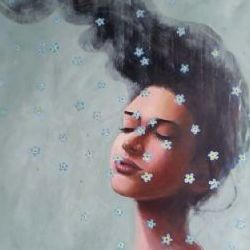 Fokus på Hanne Feldt
Så for ca. 5 år siden prøvede jeg så at male det første billede. Og fik det solgt med det samme. Jeg malede et til, og også det blev solgt. Det gav mig blod på tanden, så jeg blev ved med at male. Mød dygtige Hanne Feldt
17-03-2010
Læs mere...

Mystik og Gys med Kim Herholdt Groth
Galleri Herre Herholdt præsenterer: Mystik og Gys med Kim Herholdt Groth.
Billedkunstner Kim Herholdt Groth arbejder perfektionistisk med sine malerier. For hvert et færdigt maleri ser man tydeligt, hvordan han atter formår at højne sit niveau
17-03-2010
Læs mere...

Fra fængsel til frihed
"Med mine næsehorn, farver og billeder, ønsker jeg at skabe en glæde hos mennesker. Glæde smitter, og jeg bliver glad af at kunne glæde andre. Det gør mig lykkelig". Mød Piet Pedersen der efter en alt for hård start på livet fandt glæden via kunsten
17-03-2010
Læs mere...

Mød fire af deltagerne fra KunstTalent
Mere end 128 kunstnere har tilmeldt sig KunstTalent - MyArtSpace.dk har mødt fire af deltagerne. Læs blandt andet om hvor de finder inspirationen og bliv klogere på, hvordan de markedsfører sig selv som kunstnere.
17-03-2010
Læs mere...

Edvard Munch, Per Kirkeby m.fl. på ARoS
"Jeg forsøger at male livets uløselige gåder, og hvordan det tumler med os mennesker. Jeg forsøger at male selve livet, som det leves, kærlighed, had, smerte og angsten først og sidst. Jeg forsøger at give udtryk for min følelse af ensomhed og af ang
17-03-2010
Læs mere...

Pop Art Design på Louisiana
Omtale
I 60'erne slog Pop art-kulturen for alvor igennem med nye kommunikationsmidler, teknologisk nytænkning og markedsfilosofi. De tre virkemidler blev til begrebet pop art som stadig er en del af vores kultur.
17-03-2010
Læs mere...

Lad ikke larmen overdøve din egen stemme
For Dorte Tradsfeldt Trønninge er kunsten en kilde til ro og livsglæde. Hun maler ekspressivt og med en markant palet af stærke farver. Kom tættere på endnu end spændende kunstner lige her...
17-03-2010
Læs mere...