af Henrik Saar 30-10-2012 Vist: 3420 gange.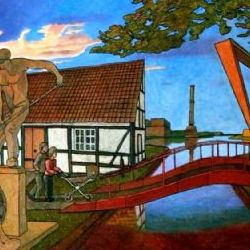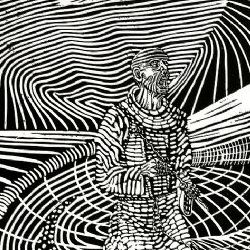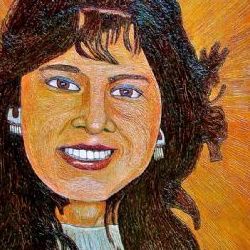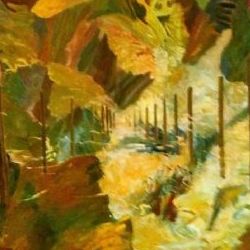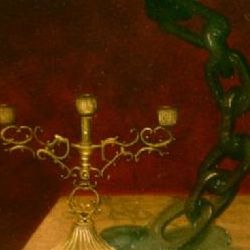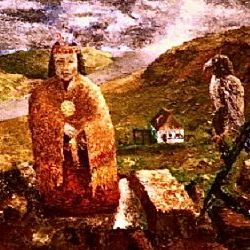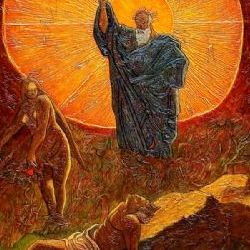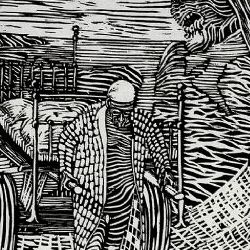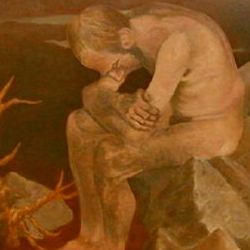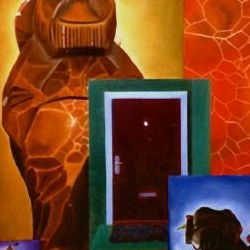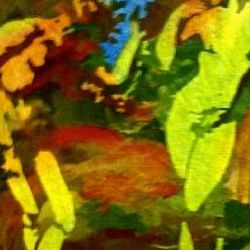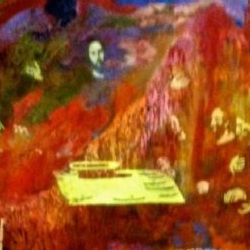 Hvorfor er du kunstner, hvordan startede det?
Min historie er lang. Lige pt. er jeg igang med at skrive en bog i 3 dele derom. Den hedder: "Mellem drøm og virkelighed", og kredser om kaldstanken, om skæbne, liv og død. Forordet erskrevet af cand. fil. Henrik Hvid, og kan allerede læses på hans hjemmeside: www.filosofisklaboratorium.dk.
Det korte af det lange er, at jeg som dreng var elitesvømmer, men grundet en indsnævring i en blodåre i hjernen kombineret med overdrevet fysisk belastning i et løb fik jeg som 15-årig en hjerneblødning, der lammede mig i venstre side af kroppen. Her mistede jeg alt, hvad jeg levede og åndede for, og stod i et tomrum uden noget at stå op til. Jeg havde altid tegnet meget, så det var det første jeg umiddelbart kastede mig over. Det udviklede sig stødt og roligt, men uden noget mål. Jeg ledte efter et livsprojekt, men skænkede ikke en karriere som kunstner nogen opmærksomhed. Jeg tegnede jo bare fordi jeg ikke kunne lade være.
Da jeg endelig skulle gøre noget formålsrettet, begyndte jeg at læse til lærer på tønder statsseminarium. Her mødte jeg en billedkunstlærer, der pustede til ilden i mig, og en skønne nat havde jeg en drøm af apokalyptisk karakter, der resulterede i, at jeg dagen efter lod alt bag mig, og kastede mig ud i et liv som kunstner. Jeg isollerede mig i 2 år på et værelse i København og malede hver dag fra kl. 16.00 til 06.00 Det var mit længe ventede livsprojekt, der begyndte at folde sig ud, og jeg var 100% på hele tiden. Det var i 1990, og siden da har jeg arbejdet med kunsten hver dag fra morgen til aften, men har dog formået også at leve et liv fyldt med rejser, eventyr og kaos. da min kone er fra Peru, har jeg i perioder boet i Peru, og har herfra de vildeste spirituelle oplevelser med i bagagen.
Hvorfor arbejder du med kunst?
Jeg kan ikke andet. Min måde at tænke på, er i den grad fokusseret på mine billeder, at jeg ikke kan se mig selv i nogen anden rolle. Da jeg uddannede mig til lærer i 1996 - 99 lykkedes det mig at få rettet alle fag ind efter mit speciale: Eksistentiel æstetik". Jeg fik en læreruddannelse, men blev istedet endnu mere fokusseret som kunstner af det.
Hvad er din største oplevelse med kunsten?
Min største oplevelse med kunsten har spirituel karakter, og er vanskelig at forklare troværdigt. Det er et psykisk stadie, hvor det billede jeg har malet på begynder at lave sig selv som var det gjort inden jeg lavede det. det giver en fornemmelse af blot at følge efter noget, der allerede er bestemt. Uanset, hvad jeg gør med penslen, bliver det en del af den endelige form
Hvad er den største udfordring i dit arbejde med kunsten?
At overføre mit eget ekstatiske eller alkymistise arbejde til et såkaldt hævet alment niveau.
Hvad gør du for at din kunst bliver set?
Jeg nævner noget af det her:
Lige nu debuterer jeg på KE12 med 3 værker (havde 5 malerier med i finalen).
Jeg deltager i en gruppeudstilling i galleriet, "New Art Center" på Manhattan i New York i juli 2013,
Er med i "Important World Artists 2012" curateret af curator Despina Tunberg.
Er med i "New York kunstmagasinet , "Everything is Art" + deres hjemmeside, der er meget velbesøgt.
I 2009 Deltog jeg i World Art Foundation`s World Art Expo i Las Vegas og vandt en kontrakt med agenturet "FAMA" i Calefornien - Kom på forsiden af bogen, "Las Vegas best" og med Special interview af mig inde i bogen ,
Er med i 101 dansk kunstner 2009" af Tom Jørgensen,
I 2006 deltog jeg i Palm Art Expo i Leipzig, og fik en 3. plads (Blev her registreret i bogen, "Who is who".
Jeg er med i bogen, " International contemporary masters volumeIV" Curateret af Despina Tunberg
Er medlem af forskellige netyværk. Herunder følger nogle af dem:
Kulturnaut - Den danske ambassades kulturportal i Berlin,
Mega Art, Italien,
Brooklyn Waterfront Artists - New York,
The WOW project - United colors of Beneton,
KE - Den Frie i København,
Power 100 i London,
Linkedin-grupper,
facebook-grupper,
Twitter
Jeg har været i special interview i Radio symfonica i Lima, Peru, Har været i fjernsyn København 3 gange samt forskellige interviews i lokale aviser der, hvor jeg har udstillet. Endvidere lavede jeg i 2010 et firmaet, ANIMA (all Nations In Modern Art), hvor jeg arbejdede ud fra en networksportal og ønskede at etablere symposier, lave et kunstmagasin og inviterede kunstnere fra hele verden til den årlige anima award i fredericia. Firmaet tog for meget af min arbejdstid, så det nedlagde jeg. Men her blev jeg helt sikkert set af mange. Derudover har jeg doneret et par billeder og lavet plakater til fordel for ofre for forskellige katastrofer, og har læst egne digte op i forskellige sammenhænge.
Hvilke kunstnere bør vi andre tjekke ud?
Jeg er meget klassisk inspireret, men er med tiden blevet podet med modernismens kvaliteter, dog ganske traditionel i mit valg af kunstnere. Herunder følger nogle af de kunstnere, jeg har brugt mest tid på
Sandro Boticelli, Tiziano Vecellio, Peter Paul Rubens, Rembrandt van Rijn, Francisco de goya William Turner, Van Gogh, P.S. Krøyer, Pierre Auguste Renoir, Edgar Degas, Juan Segantini, Georges seurat, Paul Signac, Salvador Dali, Pablo Picasso, Edward Munch, Per Kierkeby.
Henrik Saar deltager i KunstTalent 13...
Vil du vide mere om Henrik Saar