Andre artikler

Mød fire af deltagerne fra KunstTalent
Mere end 128 kunstnere har tilmeldt sig KunstTalent - MyArtSpace.dk har mødt fire af deltagerne. Læs blandt andet om hvor de finder inspirationen og bliv klogere på, hvordan de markedsfører sig selv som kunstnere.
30-10-2012
Læs mere...

Bliv dygtigere som kunstner
Opbyg dit eget personlige kunst-studie. Sådan skaber du det! Drømmer du om, at du engang havde valgt dit drømmestudie indenfor kunst? Eller at du lige nu var kunststuderende og ad den vej opnåede de tekniske færdigheder, som du savner?
30-10-2012
Læs mere...

Finurlige historier
Dennis Vedel er kunstner indenfor både musik og billedkunst. Kombinationen af de to kunstarter interesserer mig, for kan de spille sammen? Og hvis ja, hvordan?
30-10-2012
Læs mere...

Amedeo Modigliani og Jeanne Hébuterne
En fortælling om to kunstners skæbnesvangre kærlighed, liv og virke
30-10-2012
Læs mere...

Skønhedens historie 12: Kunst som erkendelse og den gode smag
Kunsten fra ca. 1800 og fremad gennemgår en fantastisk udvikling i mange retninger på samme tid. Karin forstår dog at samle trådene, så kom bare nærmere...
30-10-2012
Læs mere...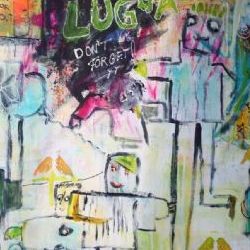 Fokus på Siffe
- Det er vel medfødt, en måde at se og møde verden på. Udviklet i barndommen ved megen alenehed med en storesøster og en mor præget af svær skilsmisse ved min fødsel.
En hård start på et hårdt liv blev også starten for en interessant kunstner
30-10-2012
Læs mere...

Mød Årets Værk vinderne på Art Nordic
Talentkonkurrencen Årets Værk på kunstsitet MyArtSpace.dk, blev igen i år vel mødt af mange dygtige kunstnere, som hver havde mulighed for at præsentere op til 10 af deres værker for det benhårde dommerpanel. Nu skal de snart udstille på Art Nordic
30-10-2012
Læs mere...

Michael Kvium - REAL MONSTERS
Udstilling:
Igennem de seneste 5 år har Michael Kvium arbejdet på en ny serie, som han kalder Real Monsters. En serie af malerier og skulpturer er lavet på en måde, som vi ikke har set Kviums værker før.
30-10-2012
Læs mere...

"Woman in Red"
Spændende udstilling af Steffen Kindts værker i Galleri Brænderigården i Horsens
30-10-2012
Læs mere...

Ydmyg og perfektionistisk vinder af KunstTalent
Kasper Købke er en mand der sjældent bliver bragt ud af fatning, men det skete da førstepladsen i KunstTalent tilfaldt ham.
30-10-2012
Læs mere...

Det fineste i livet er at gøre andre glade
Kunstnerportræt
Positiv, poetisk og måske lidt mystisk. Hun har temmelig sikkert været forbi din profil, og måske også, skrevet en kommentar eller rost dine værker. Hun hedder Naya Amalie Ulrich, og hun er selv kunstner.
30-10-2012
Læs mere...

Lad ikke larmen overdøve din egen stemme
For Dorte Tradsfeldt Trønninge er kunsten en kilde til ro og livsglæde. Hun maler ekspressivt og med en markant palet af stærke farver. Kom tættere på endnu end spændende kunstner lige her...
30-10-2012
Læs mere...

CAM-tric univers
Jeg er nervøs!
Jeg må ærlig talt indrømme, at jeg var ret nervøs for at lave dette interview med Camilla, for jeg har set, hvordan hun har ordene i sin magt og talentet for ikke blot sin unikke kunst, men også talentet til at få den ud ti
30-10-2012
Læs mere...

Frida Kahlo - oprør igennem kunsten
Frida Kahlo var en af de første kvindelige kunstnere, som virkelig slog igennem med sin kunst. En hård start på livet med alvorlige ulykker og sygdomme blev overvundet og historien om Frida er fantastisk inspirerende - det samme er hendes kunst.
30-10-2012
Læs mere...

"Du Danske Sommer" – Udstilling på Comwell
78 kunstnere er samles om at sammensætte en flot udstilling med temaet "Du Danske Sommer" på Comwell, Middelfart. Mød nogle af dem her...
30-10-2012
Læs mere...

Skønhedens historie del 6: Renæssancen (år 1400 – 1600)
Kunstens vigtigste funktion i middelalderen var, at fortælle de hellige historier på en letforståelig måde. De næste 400 år kom til at dreje sig om, hvordan kunsten erobrer virkeligheden.
30-10-2012
Læs mere...

Man lærer af kunsten og livet
– og af Iris Sigm! Mød en kunstner der stiller sig kritisk overfor det moderne kvindeideal og frygten for ikke at være god nok.
30-10-2012
Læs mere...

Paul og damerne
Heidi Rosenfeldt fik sin sag for at hun interviewede Paul Enøe Johansson - en mand der bobler over af godt humør og fortællelyst.
30-10-2012
Læs mere...

Skønhedens historie 4: Følelser og passion
Mens romerne erobrede verden og byggede deres verdensrige på resterne af de græske bystater, fik kunsten helt nye opgaver at varetage. Vi snakker følelse og passion og er nået til kunsten fra omkring år 0. Bliv klogere med Karin
30-10-2012
Læs mere...

Leger med farverne
Farver, striber, former og stemninger. Ansigter. Susanne har haft sin profil på MyArtSpace i ca. 4 år. Aktiviteten er blevet større i forbindelse med at troen på hende selv som kunster er vokset.
30-10-2012
Læs mere...