Andre artikler

At føle sig accepteret…
Den tyske kunstner Annette Falk, havde som barn altid har følt sig lidt anderledes. Men det ændrede sig da hun flyttede til Danmark.
01-03-2010
Læs mere...

Kunstnerportræt af billedhugger Lene Purkær Stefansen
Når det handler om kunst, så følger Lene sit hjerte hele vejen igennem
01-03-2010
Læs mere...

Leger med farverne
Farver, striber, former og stemninger. Ansigter. Susanne har haft sin profil på MyArtSpace i ca. 4 år. Aktiviteten er blevet større i forbindelse med at troen på hende selv som kunster er vokset.
01-03-2010
Læs mere...

Rum og Form, Store Robert 100 år
Robert Jacobsen var en mand med "store armbevægelser". I anledning af hans 100 års dag sætter vi spot på en autodidakt kunstner, der blev en af de store.
01-03-2010
Læs mere...

Skulpturen Earth – spor af jord
Det handler om sammenhold og fællesskab. Kunstner Karin Waldhausen er i gang med et spektakulært jordindsamlingsprojekt. Et langsommeligt magisk ritual kalder hun det selv.
01-03-2010
Læs mere...

Rundt om modernismen
Grunden til at 1900-tallets modernisme er så inspirerende for mig, er at så mange mennesker valgte at skille sig ud og tænke nyt på én gang! Man var ikke bange for at trodse tidens normer, og der skal hermed lyde en opfordring til at gå nye veje!
01-03-2010
Læs mere...

Mød Årets Værk vinderne på Art Nordic
Talentkonkurrencen Årets Værk på kunstsitet MyArtSpace.dk, blev igen i år vel mødt af mange dygtige kunstnere, som hver havde mulighed for at præsentere op til 10 af deres værker for det benhårde dommerpanel. Nu skal de snart udstille på Art Nordic
01-03-2010
Læs mere...

Er du MyArtSpace.dk's nye skribent?
Fremover vil MyArtSpace.dk sætter spot på udstillinger og arrangementer der i en eller anden udstrækning har med kunst og kreativitet at gøre. Vi ønsker at dække hele landet og er derfor hele tiden på udkig efter nye skribenter, som brænder for at fo
01-03-2010
Læs mere...

Det er aldrig for sent!
Mette Lorentzen er et godt eksempel på, at det aldrig er for sent at opgive de drømme. Hun valgte i en alder af 43, at satse på sin drøm om at blive kunstner.
01-03-2010
Læs mere...

Sidste mulighed for at opleve Armsrock i Århus
Tidligere street artist er trukket inden døre og er aktuel på Galleri Profilen frem til fredag.
01-03-2010
Læs mere...

Kunstnerportræt Lone Schebye
Lone Schebye maler sin have – fra sin have. Hun nyder at tage sit lærred med ud i det fri, hvor farver og strøg tager form som bl.a. gladiolus og georginer. Og så skriver hun blog om det.
01-03-2010
Læs mere...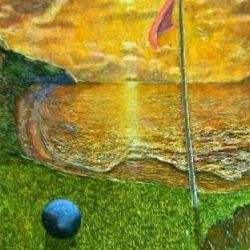 Fokus på Henrik Saar
Egentlig skulle han have været elitesvømmer, men livet formede sig anderledes efter han i en alder af blot 15 fik en hjerneblødning. Pludselig tog livet en helt anden drejning. Mød Henrik Saar.
01-03-2010
Læs mere...

Fokus på Heidi Holst Hansen
Hun iagttager mennesker, hun undres over mennesker, hun er sammen med mennesker, hun elsker mennesker, hun maler mennesker. Mød endnu en finalist i KunstTalent - Heidi Holst Hansen.
01-03-2010
Læs mere...

Portræt af kunstner Jytte Brønnum Kristensen
Jeg sidder i mit kunstneriske virke, da der kommer en kvinde ind for at se på kunst. Jeg imødekommer hende, og viser hende mod udstillingen "Spirende Forår". Selv om der endnu ikke helt er forår udenfor, synes jeg alligevel, at hun har noget med sig
01-03-2010
Læs mere...

Lad ikke larmen overdøve din egen stemme
For Dorte Tradsfeldt Trønninge er kunsten en kilde til ro og livsglæde. Hun maler ekspressivt og med en markant palet af stærke farver. Kom tættere på endnu end spændende kunstner lige her...
01-03-2010
Læs mere...

Hjorthen springer ud i dansk sommer!
Udstilling
Gallery Hjorth i Horsens byder på "Dansk sommer", når den er bedst.
01-03-2010
Læs mere...

Skønhedens historie 8: Manierisme og reformation
Renæssancen er slut og kunsten var nået til at udtrykke en naturens og menneskekroppens fuldkommenhed, der aldrig tidligere var set - så hvordan kommer man videre derfra?
01-03-2010
Læs mere...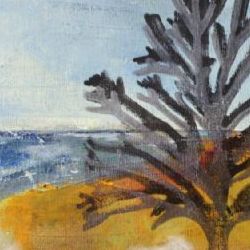 Fokus på Siffe
- Det er vel medfødt, en måde at se og møde verden på. Udviklet i barndommen ved megen alenehed med en storesøster og en mor præget af svær skilsmisse ved min fødsel.
En hård start på et hårdt liv blev også starten for en interessant kunstner
01-03-2010
Læs mere...

Spændende udstilling i Aarhus lige nu
Kunstnernes Påskeudstilling 2012 åbnede i Århus Kunstbygning den 1. april med et spændende og bredt udvalg af malerier, fotografier, videoer og installationer til enhver stil. Oplev også Spring12 og Solo12, hvor tidligere kunstnere fra KP12 udstille
01-03-2010
Læs mere...

Kunsthåndværket segmented trædrejning
Kunstnerportræt
Kunstner Henning V. Nielsen giver trædrejning en plads i kunstens verden. Det begyndte som en hobby og blev til en passion, der løfter trædrejning til et nyt niveau.
01-03-2010
Læs mere...