af Gammelgaard 17-03-2014 Vist: 10807 gange.



Hvis ikke man fik set Asger Jorn på Louisiana, kan man nå det endnu på Statens Museum For Kunst i udstillingen kaldet "Rastløs Rebel", der varer fra d. 25 februar til d. 15. juni 2014.
I anledning af Jorns 100-års-fødselsdag afholdes en retro-perspektivisk udstilling, der rummer et stort omfang af forskelligartede indtryk af Asger Jorns mange værker. Man kan både se Cobra-inspirerede værker, værker fra Frankrig, aktion-malerier, osv.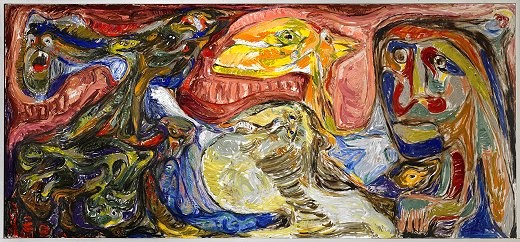 Af den stumme myte opus 7 af Asger Jorn
Det er utroligt at en så eksperimenterende maler, med vekslende motiver og teknikker, stadig formår at lave værker, hvis udtryk fortsat genkendes som Asger Jorn. Jorn er en multikunstner, der både har berørt skulptur, maleri, tegning, grafik, keramik, arkitektur, fotografi, tekst osv. Statens Museum For Kunst beskriver den danske store kunstner som frisk, flabet og utæmmelig, og disse karakteristika ses tydeligt i al hans kunst.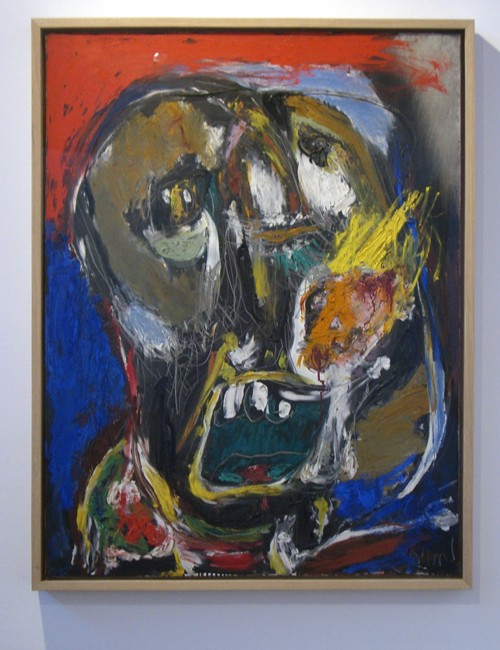 La Double face af Asger Jorn
Asger Jorn har både glade, stærkt farvede øjeblikke, og mørke mere dystre perioder i sin levetid. De mere dystre perioder ses afsmittet i et værk som fx 'La Double face' (dobbeltansigtet) fra 1960. I dette værk dominerer de klare primærfarver, der i kontrast til det sorte, og hans voldsomme penselstrøg, danner grundlag for et mere negativt og stærkt følelsesliv.
På billedet ses tydeligt en person midt i et skrig, der kan sammenlignes med Edvard Munchs 'Skriget', eller Francis Bacons ' Study After Velazquez's Portrait of Pope Innocent X'. Alle forsøger de med ekspressive strøg, at fange selve essensen af skriget. I Asger Jorns tilfælde føler beskueren medlidenhed med den skrigende pga. de forstørrede øjne og beskuerens tætte placering på den portrætterede. Selvom hans billede er mere abstrakt end de to øvrige 'skrig-malere', kan vi tydeligt genkende en ansigts-skikkelsen og dennes store desperation. 'La double Face' bliver et meget effektfuldt og identificerbart portræt.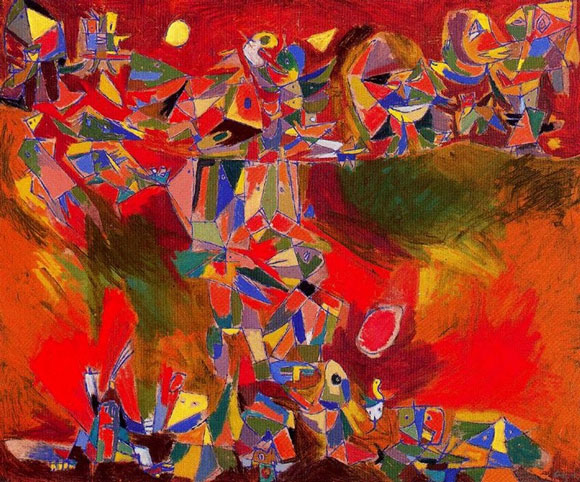 Røde Syner af Asger Jorn
Asger Jorns mangeartede farverige værker fører os ind i Jorns ukendte verdener, som vi med en vedbleven nysgerrighed, fortsat kan observere og på ny finde nye veje ind og ud af værkerne. Hans værker er præget af en stor barnlig nysgerrighed til teknik og materialer, og rummer mange underlige fantasi-fostrer, vi kun via. barnets hengivenhed til eventyret, kan forstå at opfatte.
Dette ses fx i hans værk 'Røde Syner' fra 1944. I dette benytter han en stor farvestrøm med flader der på tæt hold kan opfattes som abstrakt farvevirvar, men som på afstand danner baggrund for en vrimmel af underlige dyre- og menneskelige fantasi-monstre.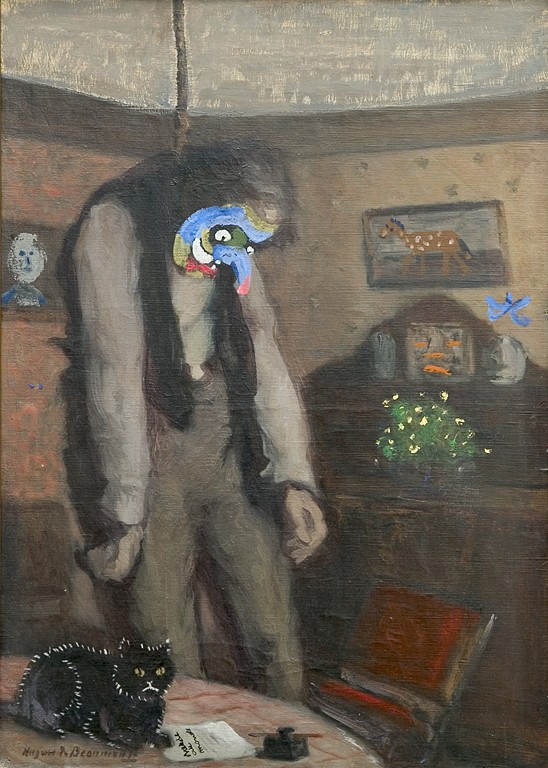 Ainsi on s'ensor af Asger Jorn
Til forskel fra 'La Double Face', kan vi her se at manglen af den sorte farve, gør billedet let, levende og legende. Dette er også et eksempel på hans typiske 'gladere værker', der giver beskueren evig mulighed for igen og igen at finde nye figurer, mennesker og dyr. Som et barn på jagt, kan man også i værket gå på jagt og finde baggrunden for nye eventyr.
Cobra-malerne ønskede at indfange denne barlige nysgerrighed, spontanitet og irrationelle fantasifulde karaktertræk, hvilket man kan se skinner klart igennem her og i mange andre af Asger Jorns værker. Udstillingen på Statens Museum For Kunst, bliver derved en frydefuld, spændende oplevelse, fyldt med overraskelser og monstre, der gemmer sig overalt.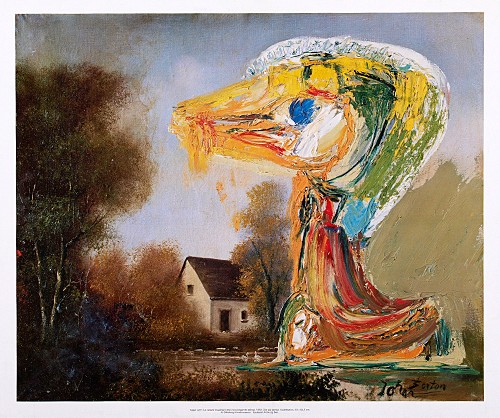 Den foruroligende ælling af Asger Jorn