Andre artikler

Udstilling med De Gale Streger
En helt eksempelløs kunstner sammenslutning. Sådan omtaler kunstnerne fra sammenslutningen De Gale Streger sig selv. De er nu aktuelle med deres første samlede udstilling i Galleri Gal i Frederiksværk.
01-03-2010
Læs mere...

Enestående filmkunst på Aros
Den fantastiske, amerikanske filmkunstner Tony Oursler udstiller lige nu på Aros kunstmuseum i Århus, og det er en udstilling du absolut ikke må gå glip af!
01-03-2010
Læs mere...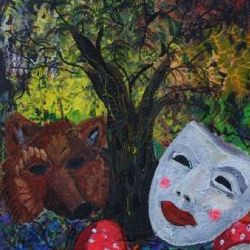 Fokus på Kia Balle
Jeg har altid elsket at male og tegne de ting jeg ser, lige fra jeg gik i skole har jeg ikke kunne lade være med at tegne det jeg så.
01-03-2010
Læs mere...

Leger med farverne
Farver, striber, former og stemninger. Ansigter. Susanne har haft sin profil på MyArtSpace i ca. 4 år. Aktiviteten er blevet større i forbindelse med at troen på hende selv som kunster er vokset.
01-03-2010
Læs mere...

MyArtSpace satte skub i min karriere
I februar måned vandt den autodidaktiske kunsttegner Kasper Heron Købke MyArtSpace.dk's kunsttalent pris foran 127 andre håbefulde kunstnere. Prisen har for alvor sat gang i Købkes drømme om at leve af sin kunst.
01-03-2010
Læs mere...

Kunstnerportræt Jette Guld Lerke-Møller
Heidi møder tilfældigt Jette ved en fernisering. Jette ved ikke, at Heidi kommer for at interviewe hende. Derfor bliver det da heller ikke noget helt almindeligt interview
01-03-2010
Læs mere...

Fokus på Kim Kartholm
Vi stiller i en ny artikelserie fokus på nogle af de mange fremtrædende kunstnere på MyArtSpace.dk. Vi begynder med en af finalisterne i KunstTalent, Kim Kartholm.
01-03-2010
Læs mere...

Skulpturen Earth – spor af jord
Det handler om sammenhold og fællesskab. Kunstner Karin Waldhausen er i gang med et spektakulært jordindsamlingsprojekt. Et langsommeligt magisk ritual kalder hun det selv.
01-03-2010
Læs mere...

Natmir Lura - maler fra hjertet
Han er opvokset i Makedonien og nu bosat i Danmark. Mød Natmir - en af de mest roste kunstnere på MyArtSpace.dk
01-03-2010
Læs mere...

Stemningsbilleder fra Miniudstillingen
Kunstnere, publikum, Artbattle og mere kunst
01-03-2010
Læs mere...

KunstTalent på Kunst for alle
Da vinderen af KunstTalent 2012 blev forhindret i at deltage i Kunst for Alle gik denne præmie videre til nr. 2 i konkurrencen, Jeanne G. Kempinski. Derfor kan du møde hende - og hendes værker - i Øksnehallen den 26. til 28. oktober.
01-03-2010
Læs mere...

Grafisk hjælp til kunstnerne
Som sælgende kunstner er det vigtigt at have et ordentligt reklamemateriale. Noget man kan give den potentielle kunde med hjem, så de nemmere husker dig.
01-03-2010
Læs mere...

"Hemmelig " regel giver mindre kunstsalg
En skam for både virksomheden og dig som kunstner
01-03-2010
Læs mere...
Fokus på kronvold
Jeg fik mit første oliemaling da jeg blev 12 af min onkel, der syntes jeg var dygtig til at tegne.
01-03-2010
Læs mere...

Fokus på Pia Noa
Hun begyndte at male i 2006 og allerede året efter blev det til udstillingsdebut. Hun har nået meget på kort tid og er nu også finalist i KunstTalent. Vi sætter stiller skarpt på Pianoa.
01-03-2010
Læs mere...

At føle sig accepteret…
Den tyske kunstner Annette Falk, havde som barn altid har følt sig lidt anderledes. Men det ændrede sig da hun flyttede til Danmark.
01-03-2010
Læs mere...

"En Trance" i Yoko Onos univers
Oplev Yoko Ono med "Half –a- wind Show – A Retrospective 7. juni – 29. september 2013 på Louisiana Museum of Modern Art.
01-03-2010
Læs mere...

Nedbryd tabuerne og tal for helvede!
"Lad os få problemerne frem i lyset. Lad os få talt om det!" Henrik Nielsen er han en fantastisk kunstner, der kæmper de svages kamp og bryder tabuer. Vi stiller skarpt på endnu en MAS-kunstner.
01-03-2010
Læs mere...

FRIDA KAHLO – Et liv i kunsten
Tag med på en rejse i Frida Kahlos iscenesættelse af sit eget liv gennem kunsten.
01-03-2010
Læs mere...

Skønhedens historie del 7: Rennæssancen (år 1400 – 1600) - del 2
Fantastiske van Eyck og magiske Michelangelo. Kom tæt på to af de helt store mestre i denne artikel der sætter spot på en fantastisk periode af kunstens historie.
01-03-2010
Læs mere...