Andre artikler

CAM-tric univers
Jeg er nervøs!
Jeg må ærlig talt indrømme, at jeg var ret nervøs for at lave dette interview med Camilla, for jeg har set, hvordan hun har ordene i sin magt og talentet for ikke blot sin unikke kunst, men også talentet til at få den ud ti
03-03-2010
Læs mere...

KG-Mangfoldighed
- markerer sig atter med en kunstnerisk oplevelse. Kunstnergruppen Mangfoldighed sætter endnu engang spot på kunst for alle i naturen.
03-03-2010
Læs mere...

Kunstens historie 9 - Barokken ca. 1650 - 1700
Barok-kunsten er egentlig en variation af høj-renaissancen og barokken i sig selv er mange forskellige retninger. Bliv klædt på til den næste fine middag med Karin Waldhausens lynguide...
03-03-2010
Læs mere...

Jeg har noget, som jeg gerne vil sige!
Dorthe er tegner. Hun tegner primært med blyanter, og det er ikke en type tegninger, som jeg har set før! Dorthe tegner sundhed. Hun tegner naturen og alt deri, som hun ser den. Og hvor er den smuk.
03-03-2010
Læs mere...

Kunsthåndværket segmented trædrejning
Kunstnerportræt
Kunstner Henning V. Nielsen giver trædrejning en plads i kunstens verden. Det begyndte som en hobby og blev til en passion, der løfter trædrejning til et nyt niveau.
03-03-2010
Læs mere...

Edvard Munch, Per Kirkeby m.fl. på ARoS
"Jeg forsøger at male livets uløselige gåder, og hvordan det tumler med os mennesker. Jeg forsøger at male selve livet, som det leves, kærlighed, had, smerte og angsten først og sidst. Jeg forsøger at give udtryk for min følelse af ensomhed og af ang
03-03-2010
Læs mere...
Fokus på EVIG
Den ene store oplevelse jeg har haft var første gange jeg skulle præsentere et par værker for en kunstforening.
03-03-2010
Læs mere...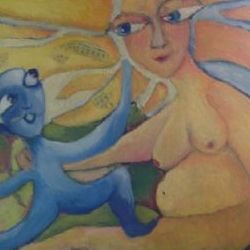 Fokus på Siffe
- Det er vel medfødt, en måde at se og møde verden på. Udviklet i barndommen ved megen alenehed med en storesøster og en mor præget af svær skilsmisse ved min fødsel.
En hård start på et hårdt liv blev også starten for en interessant kunstner
03-03-2010
Læs mere...

FRIDA KAHLO – Et liv i kunsten
Tag med på en rejse i Frida Kahlos iscenesættelse af sit eget liv gennem kunsten.
03-03-2010
Læs mere...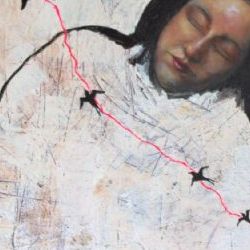 Fokus på Hanne Feldt
Så for ca. 5 år siden prøvede jeg så at male det første billede. Og fik det solgt med det samme. Jeg malede et til, og også det blev solgt. Det gav mig blod på tanden, så jeg blev ved med at male. Mød dygtige Hanne Feldt
03-03-2010
Læs mere...

Speedart. Speedpainting. Grafisk design.
De unge talenter: Én dag på MyArtSpace og så blev hans billede Dagens Værk! Kristian Rosenfeldt fik en flyvende start på sitet. EaEllen er også helt ung men har alligevel modtaget masser af ros.
03-03-2010
Læs mere...

Skønhedens historie del 7: Rennæssancen (år 1400 – 1600) - del 2
Fantastiske van Eyck og magiske Michelangelo. Kom tæt på to af de helt store mestre i denne artikel der sætter spot på en fantastisk periode af kunstens historie.
03-03-2010
Læs mere...

KunstTalent på Kunst for alle
Da vinderen af KunstTalent 2012 blev forhindret i at deltage i Kunst for Alle gik denne præmie videre til nr. 2 i konkurrencen, Jeanne G. Kempinski. Derfor kan du møde hende - og hendes værker - i Øksnehallen den 26. til 28. oktober.
03-03-2010
Læs mere...

Hvor blev jeg bare glad og stolt
Mød Tina Klitgaard Eriksen der vandt den store konkurrence Årets Værk på MyArtSpace. Vi sætter fokus på en af de mest roste kunstnere på sitet overhovedet.
03-03-2010
Læs mere...

MyArtSpace satte skub i min karriere
I februar måned vandt den autodidaktiske kunsttegner Kasper Heron Købke MyArtSpace.dk's kunsttalent pris foran 127 andre håbefulde kunstnere. Prisen har for alvor sat gang i Købkes drømme om at leve af sin kunst.
03-03-2010
Læs mere...
Fokus på Charlotte Eland
Jeg har altid elsket at tegne... krummelurer, Garfield, tændstikmennesker...
03-03-2010
Læs mere...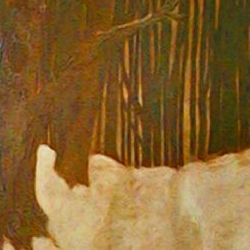 Fokus på Henrik Saar
Egentlig skulle han have været elitesvømmer, men livet formede sig anderledes efter han i en alder af blot 15 fik en hjerneblødning. Pludselig tog livet en helt anden drejning. Mød Henrik Saar.
03-03-2010
Læs mere...

Skønhedens historie 4: Følelser og passion
Mens romerne erobrede verden og byggede deres verdensrige på resterne af de græske bystater, fik kunsten helt nye opgaver at varetage. Vi snakker følelse og passion og er nået til kunsten fra omkring år 0. Bliv klogere med Karin
03-03-2010
Læs mere...

Amedeo Modigliani og Jeanne Hébuterne
En fortælling om to kunstners skæbnesvangre kærlighed, liv og virke
03-03-2010
Læs mere...

Kunstnerportræt Jette Guld Lerke-Møller
Heidi møder tilfældigt Jette ved en fernisering. Jette ved ikke, at Heidi kommer for at interviewe hende. Derfor bliver det da heller ikke noget helt almindeligt interview
03-03-2010
Læs mere...