Andre artikler
Fokus på EVIG
Den ene store oplevelse jeg har haft var første gange jeg skulle præsentere et par værker for en kunstforening.
03-03-2010
Læs mere...

FRIDA KAHLO – Et liv i kunsten
Tag med på en rejse i Frida Kahlos iscenesættelse af sit eget liv gennem kunsten.
03-03-2010
Læs mere...

Kunstnerportræt Lone Schebye
Lone Schebye maler sin have – fra sin have. Hun nyder at tage sit lærred med ud i det fri, hvor farver og strøg tager form som bl.a. gladiolus og georginer. Og så skriver hun blog om det.
03-03-2010
Læs mere...

Grafisk hjælp til kunstnerne
Som sælgende kunstner er det vigtigt at have et ordentligt reklamemateriale. Noget man kan give den potentielle kunde med hjem, så de nemmere husker dig.
03-03-2010
Læs mere...

Kunsthåndværket segmented trædrejning
Kunstnerportræt
Kunstner Henning V. Nielsen giver trædrejning en plads i kunstens verden. Det begyndte som en hobby og blev til en passion, der løfter trædrejning til et nyt niveau.
03-03-2010
Læs mere...

Bliv dygtigere som kunstner
Opbyg dit eget personlige kunst-studie. Sådan skaber du det! Drømmer du om, at du engang havde valgt dit drømmestudie indenfor kunst? Eller at du lige nu var kunststuderende og ad den vej opnåede de tekniske færdigheder, som du savner?
03-03-2010
Læs mere...

KunstTalent på Kunst for alle
Da vinderen af KunstTalent 2012 blev forhindret i at deltage i Kunst for Alle gik denne præmie videre til nr. 2 i konkurrencen, Jeanne G. Kempinski. Derfor kan du møde hende - og hendes værker - i Øksnehallen den 26. til 28. oktober.
03-03-2010
Læs mere...

Anja Evrard - Nu med neon!
I en række ufrivillige livspauser på grund af sportsskader kunne hun bruge kunsten som et opløftende lyspunkt. Mød Anja Evrard...
03-03-2010
Læs mere...

Skønhedens historie del 10: Fransk klassicisme
I tiende afsnit af Skønhedens Historie går Karin tæt på Barokken i Frankrig men kommer også omkring Belgien og Holland. Vi møder i den forbindelse en af malerkunstens helt store: Rembrandt
03-03-2010
Læs mere...

Natmir Lura - maler fra hjertet
Han er opvokset i Makedonien og nu bosat i Danmark. Mød Natmir - en af de mest roste kunstnere på MyArtSpace.dk
03-03-2010
Læs mere...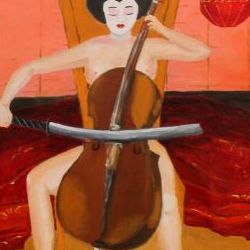 Fokus på liselottef
Det startede med jeg designede teater kostumer.
03-03-2010
Læs mere...

Det fineste i livet er at gøre andre glade
Kunstnerportræt
Positiv, poetisk og måske lidt mystisk. Hun har temmelig sikkert været forbi din profil, og måske også, skrevet en kommentar eller rost dine værker. Hun hedder Naya Amalie Ulrich, og hun er selv kunstner.
03-03-2010
Læs mere...

Hjorthen springer ud i dansk sommer!
Udstilling
Gallery Hjorth i Horsens byder på "Dansk sommer", når den er bedst.
03-03-2010
Læs mere...

Mød fire af deltagerne fra KunstTalent
Mere end 128 kunstnere har tilmeldt sig KunstTalent - MyArtSpace.dk har mødt fire af deltagerne. Læs blandt andet om hvor de finder inspirationen og bliv klogere på, hvordan de markedsfører sig selv som kunstnere.
03-03-2010
Læs mere...

Fokus på Heidi Holst Hansen
Hun iagttager mennesker, hun undres over mennesker, hun er sammen med mennesker, hun elsker mennesker, hun maler mennesker. Mød endnu en finalist i KunstTalent - Heidi Holst Hansen.
03-03-2010
Læs mere...

Udstilling med De Gale Streger
En helt eksempelløs kunstner sammenslutning. Sådan omtaler kunstnerne fra sammenslutningen De Gale Streger sig selv. De er nu aktuelle med deres første samlede udstilling i Galleri Gal i Frederiksværk.
03-03-2010
Læs mere...

Kunstens historie 9 - Barokken ca. 1650 - 1700
Barok-kunsten er egentlig en variation af høj-renaissancen og barokken i sig selv er mange forskellige retninger. Bliv klædt på til den næste fine middag med Karin Waldhausens lynguide...
03-03-2010
Læs mere...

Sidste mulighed for at opleve Armsrock i Århus
Tidligere street artist er trukket inden døre og er aktuel på Galleri Profilen frem til fredag.
03-03-2010
Læs mere...

Selvportrætter på Louisiana
Hvorfor har kunstnere igennem tiden valgt at portrættere sig selv? I dag afspejler selvportrættet af aspekter af identitet og løbende selvskabelse. Hvorfor?
03-03-2010
Læs mere...

Kunstnerportræt Brian Jensen Felde
Hvad pokker er en iPad? Og hvordan laver man god kunst med den? De spørgsmål har jeg stillet kunstneren Brian Jensen Felde, som kalder iPad'en for en "lille djævel".
03-03-2010
Læs mere...