Andre artikler

Kunstnerportræt Brian Jensen Felde
Hvad pokker er en iPad? Og hvordan laver man god kunst med den? De spørgsmål har jeg stillet kunstneren Brian Jensen Felde, som kalder iPad'en for en "lille djævel".
03-03-2010
Læs mere...

Grafisk hjælp til kunstnerne
Som sælgende kunstner er det vigtigt at have et ordentligt reklamemateriale. Noget man kan give den potentielle kunde med hjem, så de nemmere husker dig.
03-03-2010
Læs mere...

Kunstguide under Aarhus Festuge
Festugen står får døren, og det betyder en masse kunstneriske oplevelser. Her er Maja Kunic guide til hvad du bør se
03-03-2010
Læs mere...

MyArtSpace satte skub i min karriere
I februar måned vandt den autodidaktiske kunsttegner Kasper Heron Købke MyArtSpace.dk's kunsttalent pris foran 127 andre håbefulde kunstnere. Prisen har for alvor sat gang i Købkes drømme om at leve af sin kunst.
03-03-2010
Læs mere...
Fokus på kronvold
Jeg fik mit første oliemaling da jeg blev 12 af min onkel, der syntes jeg var dygtig til at tegne.
03-03-2010
Læs mere...

KunstTalent gav luft under vingerne - og elefanter i atelieret
Kasper Købke har fået ordrebogen fyldt og er lige nu en af de udvalgte kunstnere i Elephant parade. Sådan var det ikke før KunstTalent 2010.
03-03-2010
Læs mere...

Skønhedens historie 3: Arkaisk og klassisk kunst
Vi nærmer nu det sted i kunsthistorien, hvor opfattelsen af hvad der er smukt bliver en individuel beslutning. Kom med Karin tilbage til det klassiske Grækenland, hvor den europæiske kultur blev til...
03-03-2010
Læs mere...

Udstillerne i Herning Centret
Kom nærmere de 18 kunstnere der udstiller i Herning Centret den 31. marts og 1. april
03-03-2010
Læs mere...

"Du Danske Sommer" – Udstilling på Comwell
78 kunstnere er samles om at sammensætte en flot udstilling med temaet "Du Danske Sommer" på Comwell, Middelfart. Mød nogle af dem her...
03-03-2010
Læs mere...

Michael Kvium - REAL MONSTERS
Udstilling:
Igennem de seneste 5 år har Michael Kvium arbejdet på en ny serie, som han kalder Real Monsters. En serie af malerier og skulpturer er lavet på en måde, som vi ikke har set Kviums værker før.
03-03-2010
Læs mere...

Finurlige historier
Dennis Vedel er kunstner indenfor både musik og billedkunst. Kombinationen af de to kunstarter interesserer mig, for kan de spille sammen? Og hvis ja, hvordan?
03-03-2010
Læs mere...

Bliv dygtigere som kunstner
Opbyg dit eget personlige kunst-studie. Sådan skaber du det! Drømmer du om, at du engang havde valgt dit drømmestudie indenfor kunst? Eller at du lige nu var kunststuderende og ad den vej opnåede de tekniske færdigheder, som du savner?
03-03-2010
Læs mere...

Det er aldrig for sent!
Mette Lorentzen er et godt eksempel på, at det aldrig er for sent at opgive de drømme. Hun valgte i en alder af 43, at satse på sin drøm om at blive kunstner.
03-03-2010
Læs mere...

CAM-tric univers
Jeg er nervøs!
Jeg må ærlig talt indrømme, at jeg var ret nervøs for at lave dette interview med Camilla, for jeg har set, hvordan hun har ordene i sin magt og talentet for ikke blot sin unikke kunst, men også talentet til at få den ud ti
03-03-2010
Læs mere...

Fokus på Pia Noa
Hun begyndte at male i 2006 og allerede året efter blev det til udstillingsdebut. Hun har nået meget på kort tid og er nu også finalist i KunstTalent. Vi sætter stiller skarpt på Pianoa.
03-03-2010
Læs mere...

KunstTalent på Kunst for alle
Da vinderen af KunstTalent 2012 blev forhindret i at deltage i Kunst for Alle gik denne præmie videre til nr. 2 i konkurrencen, Jeanne G. Kempinski. Derfor kan du møde hende - og hendes værker - i Øksnehallen den 26. til 28. oktober.
03-03-2010
Læs mere...

"Måske kan jeg alligevel male?"
Birgit har kun malet med akrylmaling i ca. 2 år. Hun arbejder ihærdigt på at dygtiggøre sig, og man kan se, at det virker. Hun er dygtig! Portræt af kunstner Birgit Traberg.
03-03-2010
Læs mere...

Talentet blomstrer
Skønt hele opløbsfeltet var meget kvalificeret kaster vi pressens lys på de 3 vindere i årets udgave af KunstTalent: Anja Altenburg alias A.ben, June Jin og Marie Keis Uhre
03-03-2010
Læs mere...

Man lærer af kunsten og livet
– og af Iris Sigm! Mød en kunstner der stiller sig kritisk overfor det moderne kvindeideal og frygten for ikke at være god nok.
03-03-2010
Læs mere...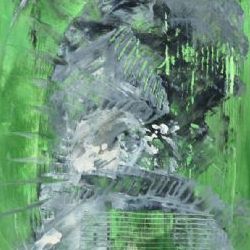 For første gang i mit liv, laver jeg lige dét jeg gerne vil
Fokus på Pendula der efter mange år som lærer og møbelsælger nu satser alt på kunsten
03-03-2010
Læs mere...